Contact Electrify EVSE Today!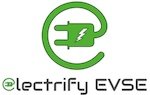 Customer service is our priority!
Do you need to buy or schedule installation of your EV charging equipment?
Does your current charger need service or maintenance?
Contact Electrify EVSE today to schedule an appointment with one of our technicians.
Corporate Headquarters
Electrify EVSE
310 Paper Trail Way
Suite 204
Holly Springs, GA 30115
(470) 761-6166
1-888-822-EVSE (3873)
Monday – Friday 9 a.m. – 5 p.m. EST
info@electrifyevse.com
We operate Nationwide.